Weddings in Woodinville
Weddings in Woodinville
"Eat, Drink and be Married"
10 Year Anniversary
When the Northwest's top event professionals join forces, you can expect the party of the decade. The January 27th Weddings in Woodinville Ten Year Anniversary gala dazzled, from the moment the glistening black Mercedes Sprinters from Butler Seattle glided into view.
Lasting Impressions has had the privilege of serving the amazing Butler team in their Weddings in Woodinville "eat, drink and be married" event since 2016; but this was the first year I attended as a guest. I knew the Butlers were impeccable professionals with style to spare; but nothing could have prepared me for the splendor of this gathering.
Starting Out The Day
---
Imagine being chauffeured by Butler Seattle's premier corporate transportation service, cruising among seven picturesque wineries to sample our area's most creative wedding fare. I was enchanted.
The pampering began in the registration tent, with bites from Table Catering Company and Top Pot Doughnuts. Yes, I caved. My old-fashioned doughnut was worth every calorie.
Upholding Tradition
---
Lasting Impressions was pleased to uphold the 4-year tradition of providing our fun cork journal and woodsy jute tote bag. They are tried and true treats the Butler's say their guests love. In honor of the special occasion, we also provided a sparkling clear water bottle this year to add a touch of practical elegance. The ringed lid is not only the perfect design element for a wedding venue; it's a handle that makes the bottle easy to carry. Its light weight makes it ideal for a stroll through a winery! Ani Butler, who kept an eye on the event details, knew we had launched a new tradition when the guests started using them right away and commented that "they loved the quality."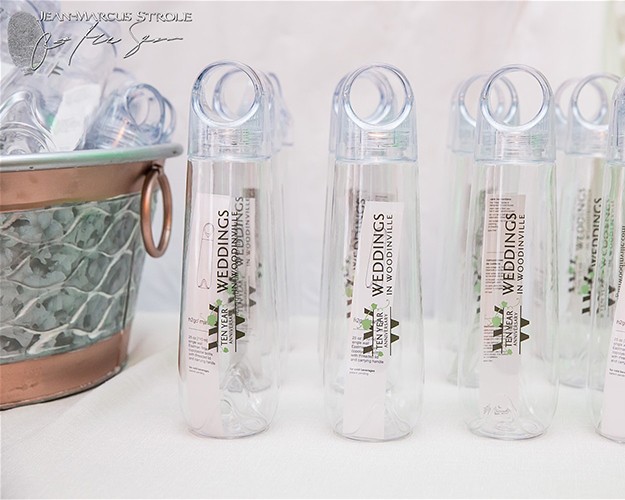 The Main Event
---
A dedicated wedding event planner coordinated a magical themed experience at each venue, tapping the expertise of featured "tour partners," showcasing everything from catering to music, wedding cakes, photography, make-up and hair styling, décor, flowers, and more. Hors d'oeuvres were passed and wine flowed.
Participating wineries were
Chateau Lill
Columbia Winery
Hollywood Schoolhouse
JM Cellars
Novelty Hill | Januik
Willows Lodge
The Woodhouse Wine Estates
Everything was lovely, including the vendors and the guests. The pace and the size of the group were ideal; comfortable and casual. I felt like a VIP, and I saw that every guest was made to feel like royalty.
Weddings by Butler Seattle have demonstrated, once again, that they know exactly how to create a perfect day.
Cheers to another 10 years!
---